Text Adventures on my mind… What? You never heard of them?
If names like Scott Adams, Infocom or Magnetic Scrolls make your eyes light up in excitement, you are my kind of crowd. A very special person, obviously with a long history in computer games, because these names are synonymous with the Text Adventure genre.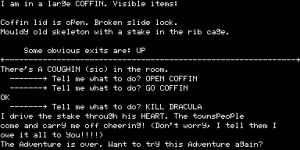 Those of you who have been following my work and career for a long time may actually recall that I started out in the games industry writing text adventures myself. I got hooked on these games after playing Scott Adams' "The Count" in 1981 on the Apple II. The game captivated my imagination with its storyline, it conjured up images in my mind of gothic horror castles and vampires, it challenged me with its brutally hard puzzles, and it did it all without graphics!
That's right, folks, as the name suggests, Text Adventures were games that worked without graphics and relied solely on text input and output to play. Today they are often referred to as Interactive Fiction, a term that perhaps describes them a little better, because these games are like reading a book, with the difference that you as the player affect how the story develops. Unlike Choose-your-own-adventure or Fighting Fantasy-style books, however, where the player is confronted with a set of multiple choices at key points, Text Adventures offered full conversational freedom. Using a text parser, you would type in complete sentences, directing and instructing the game to perform certain actions and the game, in return, would report back to you what happened in the story in response. The result was an experience that was, in many ways, richer than anything a game with graphics could offer, and inherently more personal, because the story unfolded entirely in your mind. All the imagery was the result of your own creativity and imagination being unleashed, like playing your personal movie version of the story in your head.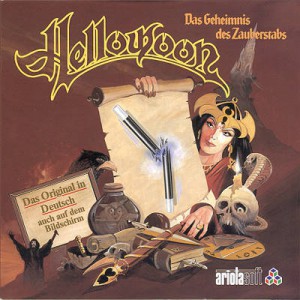 Scott Adams was one of the pioneers of the genre with his games "Adventureland," "Voodoo Island," "The Count" and "Pirate Adventure," all of which held me spellbound for weeks. They were my first contact with the genre and they made me want to write my own games. These games, and "The Count" in particular, are the reason why I became a developer and have been for the past 30-some years. My very first game "Microchioptera" was a result of playing Scott Adams' games and although it was never officially published, it was the precursor to my game "Hellowoon," which was released in 1985 or so.
Around the same time as I played the Scott Adams adventures, I discovered the games made by Infocom, created by a group of MIT staffers and students. As Infocom grew over the years, they offered games in a wide variety of genres, ranging from comedy all the way to horror and everything in between including romance, fantasy and scifi, of course. "The Hitchhiker's Guide to the Galaxy" is still probably one of their most beloved games, along with titles such as my own personal favorites, "The Lurking Horror" and "Leather Goddesses of Phobos."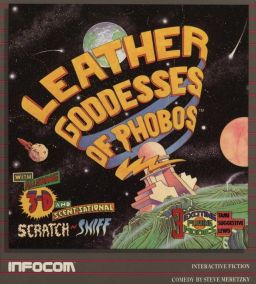 Hard as hell, these games were real challenges that would keep you occupied for weeks. Oftentimes you would get stuck in a single place for days, trying to find the right command to unlock the next step in the game. It was frustrating, yes, but also unbelievably satisfying when you finally worked it out. The rush that flooded through you, knowing that you had finally worked out the "magic" command just as you typed it, and then hitting the "Enter" key is indescribable, and the memory still brings butterflies to my stomach after more than 30 years.
Infocom was also famous for their packaging, as their games were usually loaded with weird and bizarre gimmicks relating to the games, including letters, notes, buttons, code wheels, goggles, scratch'n'sniff cards, stickers and other often outlandish gadgets. It inspired the packaging of my own game "Ooze" in 1989 where we packed hand-signed and hand-sealed copies of a death certificate and a Last Will note in the box for fans to peruse in the game. Ah, what fun we had…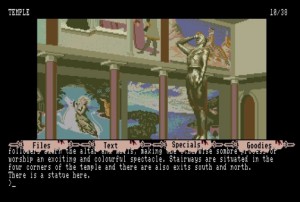 As the genre matured, another star rose in the sky of the genre by the name of Magnetic Scrolls. An English company, under the direction of Anita Sinclair, the studio pushed the envelope of the genre quite a bit by adding imagery to the adventures they sold. These were beautifully painted still images that represented the scenes you were currently playing. It was a huge step forward, and the split-screen technology they employed that allowed you to smoothly drag the image up and down the screen, was nothing less of a revelation because it allowed traditional players to have the images removed entirely and play a traditional text-only adventure, while allowing others to enjoy the "scenery" while playing.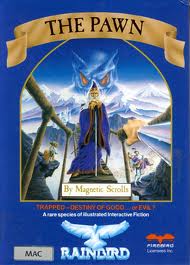 Magnetic Scrolls dazzled players with their debut title "The Pawn" and quickly followed up their success with games such as "The Guild of Thieves," "Jinxter," "Corruption" and many others.
Sadly, as the 80s drew to a close, the genre was dying. People no longer wanted to read. They wanted to be flooded with imagery and sounds. The heydays of furious action titles began, as games started to be increasingly driven by visual technology. By the time games like "Wing Commander" hit store shelves, all was lost, and everyone in the industry was chasing after the next technological mega-game, while developers tried to outmatch each other in terms of graphics. A trend that has sadly not stopped since. Many game genres fell by the wayside since those years, and Text Adventures were the first games to get buried.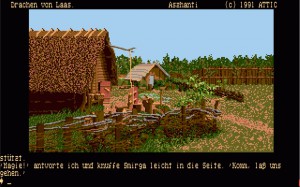 I look back on those games, including the last Text Adventure I wrote, "Drachen von Laas," with a lot of nostalgia, no question, but with the advent of eBooks I've been wondering countless times if, perhaps, there would be a market for Text Adventure games again, after all. Quite clearly, Amazon has gotten people to read again, and from the market data, it is evident that these readers are voracious. More books are being sold than ever in the history of the world, and more books are actually available for sale than ever before, the vast majority of them in digital form, as print media are slowly fading away. With no inventory and stocking costs, digital books have flourished and the reading community has grown exponentially since the Kindle has been released seven years ago.
So, clearly, there is a huge market out there of people who have once again fallen in love with the written word, but currently their entertainment is limited to linear fiction—books. The writer and game developer in me would love to go back to my very roots, and I find asking myself often if these readers would, in fact, be interested in games like text adventures, where their imagination is stirred, where they are given control over the experience and the flow of the story. Part of me wants to say, yes, but another side of me understands that marketing and selling purely text-based products in a world where everything has to be flashy, fast and borderline offensive, and to a society that generally has the attention span of a house fly, would be a hopeless endeavor.
Still, one can dream, n'est-ce pas?