"Fu Man Chu's Vampire" now on Kindle Select and Kindle Unlimited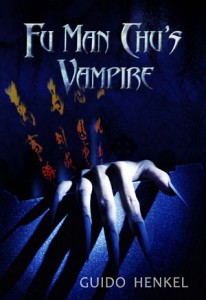 Those of you who have been following my blog for some time may actually be frowning at this headline. Why? Well, for one thing, because I have been a very outspoken opponent of Kindle Select in the past. In many ways I still am, %%% % % % but for a number of reasons I have decided to give it a try with one of my books. When you have one book that you wrote, it is a very dangerous thing to put all your eggs in one basket, but when you have fifteen books available for sale, like I do, the risk to use one of them as a test balloon is mitigated. So, I decided to give Kindle Select a try with my Jason Dark supernatural mystery "Fu Man Chu's Vampire." It is the eleventh installment in the series, and to date, the last one. It is, in my opinion, one of the best books in the series with the strongest writing—and yet, it sold noticeably less copies than the previous books in the series.
That was, in fact, one of the main reasons why I decided to give Kindle Select a try. My sales on channels other than Amazon were virtually nil, particularly for this book, so it is the perfect candidate to see if the much-hyped Kindle Select program, and its opportunity to give your book away for free for a limited period of time is really part of the secret recipe to kickstart book sales. The logic escapes me somehow, but hey, who am I to argue…yet? I'll try and see.
Yet another why I decided to give it a try is Amazon's relatively new Kindle Unlimited program. It is catering to people who read a lot and for a flat $9.99 per month fee you can read as many books from the Kindle Unlimited library as you want. I am a slow reader and I simply do not have the time to spare to make it worth the subscription fee, but I hear it has become quite popular with many of the voracious readers that the Kindle has produced. If I can get readers interested in "Fu Man Chu's Vampire," perhaps they will go back and try some of the other books in the Jason Dark series, none of which, I might add, are enrolled in Kindle Select and Kindle Unlimited, but are available at a low price as individual books and as part of Jason Dark Collections.
So, if you have been unsure about my Jason Dark supernatural mysteries and would like to give it a try, here is your chance. If you're an Amazon Prime member, borrow a copy of the book for free now, or get it for free through your Kindle Unlimited subscription. It is an exciting mix of adventure, mystery and a good bit of gothic horror with some Steampunk thrown into the mix. In short, it is exactly the right mix for this Halloween season! Think of it as "Penny Dreadful" meets "Sherlock Holmes" meets "Van Helsing," and you get the idea!
So, what's there not to like? Click here and get hooked now…