Zen of eBook Formatting is now available!
The past months I kept myself busy completing a new book on the subject of eBook formatting, as many of you may know. I am happy to announce that the book is finally available! For only $5.99 you can now benefit from the years of experience I have had as a professional eBook formatter, learning the ins and outs and the tricks of the trade I have applied to many hundreds of eBooks from New York Times bestselling writers and indie authors alike.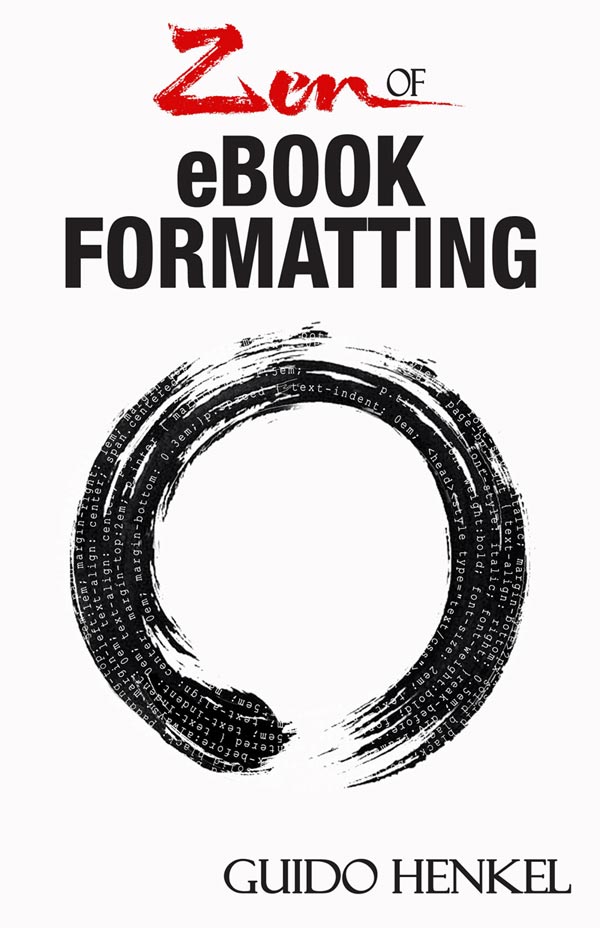 Zen of eBook Formatting is in the same vein as my "Take Pride in your eBook Formatting" tutorial series, but it goes way beyond that, as it is vastly expanded and updated. Whether you are a PC or a Mac user, in the book I am taking readers through the entire workflow that I am using every day for the projects I am working on for my clients. In an easy to understand manner—I hope—I am not only listing the steps, but also explain why these steps are necessary and why I do things the way I do them. The result is a tutorial-style self-help book that is chock full of examples, tips, tricks and coding snippets.
Having formatted close to 1,000 eBooks at this time, I am covering the entire process, from the basic manuscript cleanup, to the basics of HTML and simple markup, all the way to advanced techniques that allow you to add an incredible amount of polish to your eBooks without necessarily sacrificing device compatibility.
Just to give you an impression of the breadth of subjects I am covering, here is the Table of Contents for you.

Table of Contents
Preface
Introduction
1 – The Road to Right

Understanding eBook readers
Why you should not use a word processor
The road to Right
Tools of the trade

2 – Data Structure

HTML
CSS
Prepping your style sheet

3 – Cleaning Up the Manuscript

The Power of Em
Time to clean up your manuscript
Fixing up styles

4 – From Word Processor to Programming Editor

Nice, clean and predictable in HTML
Paragraphs are the meat
Fleshing it out
Dealing with special characters…the right way
A word about fonts

5 – General Techniques

Centering content
Images
Image resolution
Chapters
Typography and Layout

6 – Advanced Techniques

Chapters
Initials
First-line capitalization
Formatting inserts and notes
Formatting emails and text messages
Image blocks with byline
Custom fonts
Linking to the outside world
Lists
Backgrounds and Color

7 – eBook Generation

eBook formats
Meta-Data
The Cover
The TOC in the digital world
Calibre
More control with XPath
KindleGen
Error-checking

8 – eBooks Outside the Box

A Word about Fixed-Layout Books
Preparing for Smashwords

Parting Thoughts
9 – Appendices

Chart of named entities
Resources

About the Author
Also by Guido Henkel
The key to me, when putting together this book, has been to make it possible for anyone to create an eBook that has a professional level of presentation. Too many authors use shortcuts to create eBook version of their manuscripts, flooding the market with broken and sub-par product that leaves a bad taste in readers' minds, when in fact, applying a little bit of discipline could elevate them from that riffraff and make their books like a million bucks.
Zen of eBook Formatting is targeted at all those of us, who care about their books, not only the words we wrote, but also that they are presented to the reader in a clean and professional manner that works on as many eReaders as possible. Hopefully, with Zen of eBook Formatting at hand, this goal will be within reach for many more authors.
Grab your copy of the book an Amazon now!
---
If you want to keep up with my eBook formatting work, don't forget to subscribe to my Newsletter. That way I can keep you updated about the latest developments, updates to my books, code snippets, techniques and formatting tips.