Time to rethink Kindle content generation
The announcement of the next generation of Amazon's Kindle has set the eBook world abuzz once again. Not only are the new models more attractive than their predecessors, but they also expand the market in new, untapped territories. For authors, this is great news, of course, but often, where there's light there's also darkness.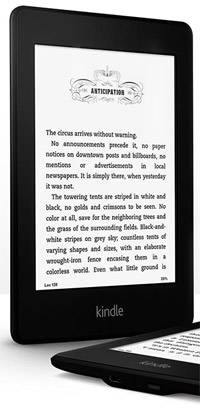 In this case, the cloud on the horizon lies in the technical specs of these new devices. With a bit of worry I have observed over the past year or two that the eBook market is becoming more and more fragmented. In a very bad way, it reminds me of the mobile game space I have also been working in, where, at times, it was necessary for us to build up to 200 different versions of the same app to make sure it properly supports all the handsets in the market.
While the eBook market is not nearly as bad, of course, there is an increasing trend of changes – or call them features and improvements – that can work like sand in a ball bearing.
Fortunately we have to contend with only two generic eBook formats at this time – MOBI/KF8 and EPUB – and it is easy enough to build eBooks for both formats from the same sources.
However, since the inception of the iPad, problems have cropped up that force eBook publishers and formatters to think very hard about what it is they want to do and how to achieve the desired effect. Fixed-layout books and their particular quirks, and the lack of a general standard to create them, is just one of the issues publishers have to tackle these days, and it is exacerbated by the fact that even within the Kindle line of products, it is not possible to really create specialized builds for each platform. A fixed-format Kindle Fire eBook will inevitably make its way onto a regular Kindle – where it doesn't belong – because Amazon does not give publishers the possibility to create specialized builds. As a result Kindle owners will look at a book that is horribly mangled and probably unreadable, while it looks mesmerizing on a Kindle Fire. I am not sure in whose best interest that is, but that's the way Amazon does it.
The reason I am writing about this is because according to Amazon, the new Kindle Paperwhite line of models offers 65% more pixels. In plain English, it means it has a higher resolution than previous Kindles. That is really great news in regards to sharpness of the text, of course, but from a formatting standpoint it causes certain problems. An image that was perfectly sized for the Kindle's 600-pixel resolution to date, will suddenly appear much, much smaller on the page. In many instances, this will not be overly dramatic, but if you use images deliberately as a design element, it will force you to rethink how you approach images in eBooks. Just image how tiny the image will look like when it's being displayed on the new Kindle Fire HD with a resolution that is three times as wide as that of the original Kindle.

How would you like your artful chapter heading to look like?
In the past I have sized images to suit the 600 pixel screen. It helped keep the file size in bay – why bulk up a book's footprint for no apparent reason, especially since the publisher is being charged for the delivery of the book based on the size of the file. This approach may no longer work, however, if you want high quality images across the board.
I've been therefore rethinking my strategy and going forward I am sizing images to a higher resolution and then determine their on-screen size, using scaling through my CSS style sheet. This allows me to make sure the image will always appear the same on the display, without degrading it on higher resolution screens. If anything, it may degrade the quality scaling images down to the older Kindle models.
If Amazon offered platform specific builds for their line of Kindles, this would not be a problem, but things being what they are, a one-size-fits-all approach is necessary, and hopefully, this will do the job.
In many ways, I wish that Amazon would make me part of their Kindle design team or at least would allow me to work with them. After all, I've had over 35 years of experience as a software engineer in arenas that were a whole lot more complex than an eBook reader.
Many of you may remember my post 10 Things Amazon should correct in the Kindle from a year ago, and it is rather disheartening to see that virtually none of these issues have been addressed. In fact, if you look closely, not a single one of the issues has been addressed to date. While I have not seen a Kindle Paperwhite at this time, I doubt there will be many changes in the firmware that would address these issues. It seems to be more of a change in terms of the form factor and a hardware upgrade than a rework of the actual reader implementation – but I could be wrong, of course.
To me as a software engineer, author, publisher and professional eBook formatter, the omissions are truly painful to behold. amazon has done great things for books, by truly establishing eBooks as a reading medium, making it the new mainstream standard, all the while opening the doors for authors to publish their own work. All great achievements and I honestly doff my hat to Amazon for their incredible foresight and the vision they had during the past three years.
That, however, makes the technical shortsightedness all the more prevalent. All of the issues I raised before have been around since day one, and clearly someone within Amazon should have championed their correction. It did not happen. Not even when people like myself and others have called them out.
Amazon has never been a software or hardware developer before the Kindle and as such it was to be expected that there would be hiccups in the product and the delivery. No big deal. However, the market has reached such a maturity, that glitches like inconsistent text justification, the lack of transparency in PNG images and other omissions become glaring issues that should have been resolved two years ago.
The Kindle has to mature and it has to mature with foresight or we are gong down the road of mobile games, where you need 200 individual builds of an app. There are great developers out there who would have been happy to assist Amazon in their objective, but instead of embracing them, Amazon has often shunted them.
A command-line MOBIGEN program is just not the same as the luxury you get out of a program like Calibre. Amazon should have long looked into creating high quality content creation tools that help authors to increase the quality of their output. Too many self-published books are still created with an MS Word export or an InDesign plug-in that cause more problems than they solve.
Amazon should also have long started to put in place platform-specific delivery of eBooks, along with was for authors to properly set up books for each of these platforms.
Amazon should also have expanded their eBook format in ways that are truly practical without having to jump through hoops. The introduction of KF8 was a horrid debacle to say the least. Confusing authors and readers alike, the implementation is not what it should be – many things could have been implemented much more efficiently, making it easier for formatters to prepare the eBooks while also giving them a certain level of control over the appearance of their content. If you've ever tried to take a look at a black and white line-art image in the "Night" setting of your Kindle, you know what I mean, and the whole image sizing issue puts the dot on the i, I think.
I don't want to harp on this unnecessarily excessively, but it also appears as if Amazon has long forgotten its pledge to bring KF8 support to the Kindle 3 generation of devices. As far as I can tell, that has never happened either, and yet, the train of model innovation moves on…
With all the new glitz and glamour that accompanies every new Kindle model, for publishers, each new generation brings with it a new set of challenges. It's not necessarily a bad thing, but as I said, I wish Amazon would allow me to work with them to help them make these transitions as easy as possible, at least from a content creation standpoint. If anyone from Amazon is reading this, you know where to find me…