The Predatory Kind might be for you!
Today I have more exciting news for you. Like Gord Rollo and Gene O'Neill, I met Joe McKinney during the World Horror Convention in Austin a few months ago, and I was also immediately struck not only by his warm personality, which was particularly evident also during the reading Gene and he held on one of the days.
For those of you, who are not familiar with Joe McKinney's works, let me tell you that he is for zombie books, what George A. Romero is for zombie movies — a guiding light with sweeping ideas and a knack for great storytelling.
You can find his zombie books on the shelves of any book store in the country — if there's any left in your corner, that is — but like many traditionally published authors, Joe was reluctant to enter the digital playing field.
While his zombie novels were published as e-books by the respective publishers, he did have the rights to some of his other books, including the e-book rights to his latest book, The Red Empire — more on that later.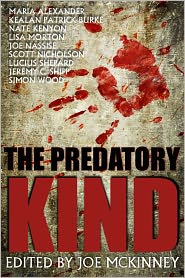 To make a long story short, I suggested to Joe to work with me to get his books out on e-books and he soon came back to me with a book called The Predatory Kind. Together we've prepared it to be released in all e-book formats and I am proud to let you know that today is the official release date for the book! Yay!
What you have here, is a collection of ten short stories, penned by some of the greatest horror writers of or time, including the likes of Joe McKinney, Scott Nicholson, Joe Nassise, Kealan Patrick Burke, Lisa Morton, Nate Kenyon and others. To say that this book is a heavy weight is an understatement, really, because not only do these incredibly talented and renowned authors lend a hefty amount of credibility to the project, but the stories they deliver in this collection are nothing to sneeze at either.
Exploring scenarios to show that our world is not as safe and secure as we may believe, The Predatory Kind contains supernatural stories about the hunters out there, watching us, stalking us, waiting for their moment to strike. They are the predatory kind!
The Predatory Kind is available now at Amazon, Barnes&Noble, and Kobo or only $2.99.
While it may not feature the human flesh-eating zombies we've come to know — and perhaps expect — from Joe McKinney, this book offers up about 300 pages of unbridled suspense and terror, so make sure you take a closer look and grab a copy. If the launch of this title will be successful, we will also bring out The Red Empire as an e-book soon, and that is also a book you don't want to miss — a magnificent throwback at 50's-style Jack Arnold-inspired science fiction, where a secret government project goes wrong and a wave of flesh-eating red ants sweeps the countryside. Awesome!