Check out the "Mean Streets"
During the World Horror Convention in Austin earlier this year I had the chance to spend some quality time with horror authors Gord Rollo and Gene O'Neill. Both of them are established and traditionally published authors in the horror genre, that many of you may be familiar with as they've published a number of fascinating books.
Both had not made the transition to the digital realm yet at the time, in part because of rights issues, in part because they simply weren't all that familiar with the process. I therefore offered my help and suggested to take one book and make it a test-balloon of sorts. I would turn the book into an e-book and publish it through my distribution channels under my Thunder Peak Publishing imprint. My hope was that I could convert Gord and Gene to digital believers so that they would get off the traditional balls-to-the-wall, no-future traditional publishing rails.
In the weeks following the convention, Gord and Gene refurbished a short story collection that had been published years. Originally titled "When the City Sleeps," the book had been out of print for almost just as long and it made a perfect candidate to be turned into an e-book. Ever the professionals, Gord and Gene didn't just want to put out shovelware and decided to include new material in the e-book. They sat down and wrote two completely new sort stories to be included in the book.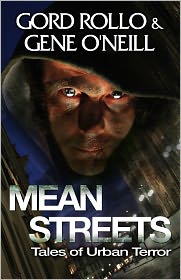 The result is "Mean Streets," a collection of seven urban tales of terror, and I can tell you this is signature Rollo and O'Neill material! Sure, I may be biased, but when I read the stories, they really pulled me in and surprised me with interesting twists. In particular "Lord Rat," one of the new stories, is a real showpiece of smart short story writing. It never fails to intrigue and unsettle, and it takes place in O'Neill's favorite haunt, the San Francisco Tenderloin district.
But I also enjoyed "Breath of an Angel / Touch of the Devil" very much, which reads like a who-dunnit in a dark, seedy urban setting. Very cool stuff, I can tell you, and definitely worth the read.
"Mean Streets" is now available on Amazon, Barnes&Noble, Kobo and Apple's iBookstore for only $2.99. Maybe you can do me a favor and support the effort. Show Gord and Gene some love — they definitely deserve it — and buy the book,if only to show them that the e-book market is alive and thriving. If this turns out right, both will be more than happy to release more of their work in the digital marketplace.
So, grab a copy and enjoy the urban terrors their wicked minds have thought up. I promise, you will enjoy it!