Take pride in your eBook formatting (Part III)
This is the third installment of a series of articles. To read the previous one, please click here
---
The Road to Right
After having spent a lot of time in my last installment, telling you how you should not create an eBook, I will no longer hold you back with explanations of Wrong and instead we will point our heads forward and look down the road of Right. Let's start with a quick overview over the process I am proposing just so you get a general idea for what you're going to get yourself into. Depending on your level of expertise this might or might not be all that intimidating at first, but let me assure you that there is no magic involved and every tasked can be performed by virtually anyone familiar with a computer. Remember, the key lies, as so often, in getting the right tools or the job and putting them to work for you.
The majority of ebook formats in use today are nothing more than a packaged collection of HTML files. Yes, the same kind of files used to create and display web pages. Surprised? You shouldn't be. It actually makes a lot of sense. HTML has been created to allow information display on a wide variety of display devices regardless of their capabilities. Whether your computer monitor has a high or a low resolution, whether you are running your browser fullscreen or in a small window, on an old or a new computer, basic HTML pages will always be able to display properly in all these environments.
Since we don't know what device or software the reader will use when they want to display our eBooks, it only makes sense to utilize a format that is tweaked for that very purpose, doesn't it? A format that has free text reflow capabilities and can easily embed images and other media. You might recall how I told you that you can actually embed video in your eBooks if you want to, and now you know, why.
HTML is a format perfectly suitable for the needs of the eBook community and all it really lacks is digital rights management, or copy protection to put it in plain old English. To accommodate that, some of the eBook formats are encrypted internally, but that is really none of our concern at this point. Let other people worry about that. We just want to package our book in a digital format that can be used by eReaders for the time being.
Among recording musicians we have a saying that is very suitable for our cause: Garbage in, garbage out! It means that when the source you are recording is garbage, your end result will inevitably be garbage also. There is just no way to make a bad source signal good. The synthesized vocals of current-generation pop stars are living proof of that.
Since we know that our end result is going to be an HTML file, the best way to avoid garbage along the way is to choose a source format that is as close to the output format as possible. So, if the output is HTML, why not make the source format HTML also? HTML is a very simple markup language that is so basic and, more importantly, widely document today that anyone can pick up the basics in under 30 minutes. In fact, many of you may already be familiar with the general basics of mark-up languages from styling their message board posts or maybe even creating their own web pages and blog posts.
To put it very bluntly. If we create an HTML file as the source for our eBooks, the end result will be every bit as reliable as the HTML file we initially created. Makes sense, doesn't it? And that is really all there is to it. That is the secret to creating professionally-looking eBooks. You take the contents of your book and prepare them as a first rate HTML file and run it through a packaging software to prepare the final eBook for you. Yes, it really is THAT simple!
I would be remiss, however, to leave things at that. I promised to show you exactly how to do it, and I will. To make sure you are not getting stressed out at this point, let me repeat our key mantra once again.
The right tools are critical for an easy workflow.
Get the right tools for the job and you'll be pitching a home run in no time. You will be a much happier human being and you will have much more time on your hands to enjoy other things in life. With that in mind, let me run you through some of the basic tools we will peruse in the next installments; tools that will help us achieve the perfect eBook formatting we so desire.
I don't know about you, but I'm a Mac-head. I have long ago decided that my time is too precious to waste on computers and operating systems that don't work properly and turn into utter time sinks. As a result, I am an Apple Mac user, plain and simple. As I said. Get the right tool for the job.
While I highly recommend you should use a Mac also – you will see you productivity go through the roof for one thing, I promise – this does not mean that you really need one. Everything we do on the following pages can be done on a Windows computer also, so do not worry.
At this point, let us assume that you have completed the manuscript for your book and have it entirely committed to a single word processor document. Needless to say, you will need a basic word processor to open, read and massage the file, but once again, I assume that as a writer, you do have that.
What you will also need, ideally, is a software called a Programming Editor. I use personally TextMate (http://macromates.com), but there are numerous other editors available on the internet also, which will serve the purpose just fine, some of them as paid software, others for free. JEdit (http://www.jedit.org), for example is a free programming editor that is available for Windows, Mac and Linux platforms and will definitely do you nicely.
In addition we will be using Calibre (http://calibre-ebook.com) for our final creation of the most common eBook formats. Calibre is a free software package that works under Windows and on the Mac.
In the next installment we will take a closer look at some of the features of HTML that we will need to whip our eBooks into shape and how they impact how we will create our eBook source file.
---
Take pride in your eBook formatting
Part I • Part II • Part III • Part IV • Part V • Part VI • Part VII • Part VIII • Part IX
Need help with an eBook project? Check here for more information.
---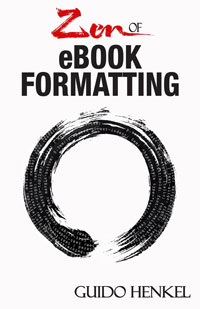 If you want to keep up with my eBook formatting work, don't forget to subscribe to my
Newsletter
. That way I can keep you updated about the latest developments, updates to my books, code snippets, techniques and formatting tips.
Also, don't forget to check out my book Zen of eBook Formatting that is filled with tips, techniques and valuable information about the eBook formatting process.