An example of Scrivener breaking your eBook output
On many occasions I've kept repeating that it is generally not a good idea to use word processors to export eBooks directly, and whenever I make that statement I am frequently greeted by push-back from authors who are perfectly happy doing it because it works for them.
I guess the operative phrase here is, "works for them."
Exporting a clean manuscript from a word processor can work if you are dealing with a novel that has nothing but the most basic formatting. I have to point out, however, that not a lot of the books I work on for my clients fall into that category and typically have a few formatting features that require more attention to detail.
In these conversations I have with authors, a lot of folks also seem to think that Scrivener is the ultimate solution and does a perfect job exporting eBooks, a notion that I am going to shred in a moment. First, however, it is important for me to point out that I am a huge fan of Scrivener. I have used it for years. I have written 15 books in Scrivener and I would not consider any other software for the task. I have, however, never considered it to be an eBook exporter. It's my writing software. Nothing else.
I am saying this because I want you to understand that it is not my intention to discredit Scrivener here. Rather, I want to debunk the myth that Scrivener's eBook export is perfect and want to show a simple example in which Scrivener's eBook exporter can completely destroy your eBook.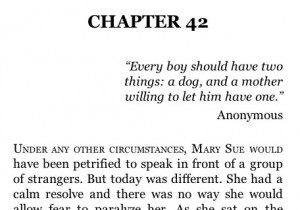 Imagine, if you would, that you have a small quote you want to format so that it is right-aligned on the page. However, since it is a quote, you do not want it to run the entire width of the page. To make it look nice and neat, you want it to run just, let's say 20em wide, so that it turns out to be a neat little block of text on the right side of the page.
In Scrivener – or any other word processor for that matter – you would select the text, turn on right-alignment and use the ruler to scale down the width of the printable area. Alternatively, you could have a prepared style that does the same thing, of course, and simply apply it to the text. Makes no difference. The key here is that in order to achieve the proper limited-width word-wrapping, you will have to adjust the printable width.
It looks neat and nice, right? Just until you export it.
If you export a section like this to an ePub file, you will find that your page is mysteriously empty. That's right. There won't be anything on the page. What is happening?
In order to understand what is going on, it helps to look at the ePub file that Scrivener creates, and very quickly it becomes obvious that it fell into a major format trap.
Because of limitations in eBooks, in order to create the 20em text canvas on the right hand side of the page, Scrivener decided fake it by simply increasing the left hand margin. It's a valid approach, no doubt. If you think of the entire page width as 100%, increasing the left margin to 80%, leaves 20% for our quote to be printed. The logic is fine. The execution is not.
First of all, we are not working with percentages. Why? Because if you are looking at a cell phone screen, there is a good chance that 20% of that screen width would barely fit a single word. We cannot allow that to happen. We need something that relates to the text size first and to the display size second.
To accommodate the problem, Scrivener decided to lay it out using em-spacing, which is exactly as it should be. The problem is that it looks at the actual page inside the Scrivener window to calculate the page width. Since the windows on my computer desktop is a lot wider than that of a cellphone screen or even a regular eBook device, the measurements are all off. Scrivener creates a left margin of 80em, and as a result our actual quote is printed off-screen in its entirety. That's why you see an empty page.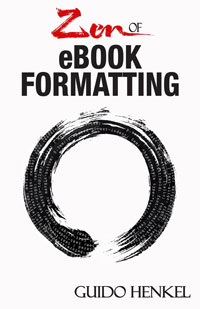 This is just one example of the unforeseen pitfalls you can run into when you simply rely on a software exporter to do the work for you. There are a myriad of other problems lurking to pop up when you least expect it. These software exporters are great at doing the grunt work, but they are exceptionally poor when it comes to create output that is actually compatible with real-world applications.
A much better way is to take control of your eBook files yourself. Instead of relying on exporting them, which is a hack and a shortcut at best, properly format them yourself. Use methodologies that have proven to work across platforms, such as the approach I outline in my "Take Pride in your eBook Formatting" tutorial series and my book "Zen of eBook Formatting," which is a step-by-step guide from the most basic beginnings to fully advanced eBook layout features. Feel free to download a free reading sample on Amazon and see for yourself.
---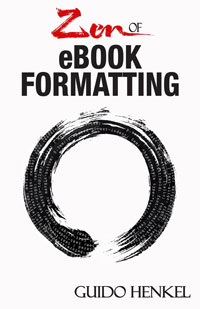 If you want to keep up with my eBook formatting work, don't forget to subscribe to my
Newsletter
. That way I can keep you updated about the latest developments, updates to my books, code snippets, techniques and formatting tips.
Also, don't forget to check out my book Zen of eBook Formatting that is filled with tips, techniques and valuable information about the eBook formatting process.