Buy Curse of Kali and get Fu Man Chu's Vampire for free!
Today I have a special offer for you, and hopefully I can entice you…
As you are certainly aware, I am currently putting the final touches to the latest Jason Dark supernatural mystery with the title Fu Man Chu's Vampire. The book is currently with my editor for a final polish — at least I hope he's not going to recommend a complete rewrite — and I have tentatively scheduled it for a late January release.
What you may also know, since I mentioned it on occasion, is that the previous Jason Dark book Curse of Kali actually foreshadowed the events of Fu Man Chu's Vampire. To call it a prequel would be going too far, but the earlier book definitely leads up to the upcoming mystery with very overt references and a subplot.
Now, I know you may be sitting on hot coals, waiting for Fu Man Cu's Vampire, so I thought, perhaps there is something I could do to make the wait a little more tolerable. That's where my special offer comes in…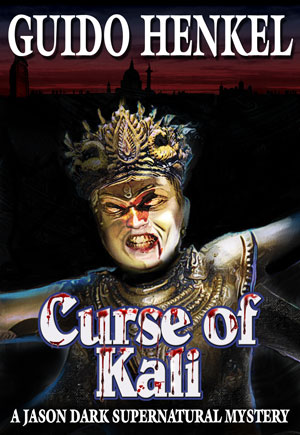 Purchase a copy of Curse of Kali anytime between now and the end of the month, and I will give you a free copy of Fu Man Chu's Vampire as soon as it is released. In fact, I'll do one better. You will get the book before anyone else!
So, not only do you get two books for the price of one, you will also be among the first to read the new one. Do I have your attention?
All you have to do is purchase a copy of Curse of Kali anywhere you can find it — on Amazon, at Barnes&Noble, at Kobo, in Apple's iBookstore or on the Jason Dark website. Once you have that, simply forward the email with the order confirmation to and we will take care of the rest. Even if you purchased your copy a week or two ago, feel free to send in the receipt and I'll put you down for a free copy of Fu Man Chu's Vampire.
Are you ready, yet? Curse of Kali is only $2.99 and you could get your copy right now. Why wait?

Purchase on Amazon
Purchase at Barnes&Noble
Purchase at Kobo
But it in Apple's iBookstore
Get your copy from the official Jason Dark website
You won't regret it, and these books are perfect fodder for that new eBook reader you got for Christmas! 🙂