A first peek at the lettering for Fu Man Chu's Vampire
While I am still waiting for my editor Terry Coleman to complete his overview and comments on my latest Jason Dark supernatural mystery, "Fu Man Chu's Vampire," I spent some time over the past two weeks, trying to create a suitable cover for the book.
In the past I had always hired an artist to paint a cover for me, based on clearly-defined ideas and suggestions I had. Many times, I prepared a mock-up that I would send him and then let him paint what I had in mind. Very consciously, I always went for a classic look, as I tried to recreate the flair of old-school pulp fiction, dime novels and the wonderful horror movie posters of the 40s, 50s and 60s.
All of that served my desire to create a certain look for my books, but some time ago, the question came up again and again if, perhaps, this look has been holding back these books, dating them unnecessarily or putting them in a niche where few readers will pick them up. As a result I did major and minor overhauls of some of the covers over the past year or so.
To make a long story short, for "Fu Man Chu's Vampire," my idea was to go a slightly different route. I wanted to treat the book as a stand-alone and break with the old, just to see how things will work out. Therefore I decided not to have the cover painted this time, but instead try a different approach.
One was to open up the cover design to the public, essentially, and I created a contest some time ago, offering artists the chance to create a cover for the book and get it published. Sadly, the response was not what I expected and once the deadline was over, I knew I had to take matters in my own hands once again. I toiled away at ideas, but everything I came up with seemed old and stale — completely uninspired. And I knew it.
Eventually I turned over the work to my wife, Lieu, who is a graphic designer, and who regularly winces at the stuff I come up with. To her I am an amateur, stuck in a rut, and she's probably right. She offered to help and I gladly accepted her offer.
It took Lieu no more than ten minutes to come up with a general design that I liked. Talk about a pro, there. Within a few hours we had set up a photo shoot to take the key imagery that she'd need for the cover and by the end of the day she had things neatly lined up.
All that was missing was the title lettering, and I often tend to think that is one of my fortes. (Oh, stop rolling your eyes, will you?)
Anyway, I gave it a shot and I spent a day creating tweaking and re-tweaking a lettering until I was pretty much satisfied with it. I say "pretty much" because I got to the point that my wife actually said, "Would you stop it? It is great the way it is. Stop messing with it." Yes, I can get a little carried away, and if it were up to me, I'd probably still tinker with the logo.
The final version of the cover is still not complete. Lieu still has to properly assemble the various elements and balance it all to the point that it will be "perfect," but I thought I'd give you guys a first peek at the lettering I created. Never mind the background. I included the swirl simply to get a general idea how it looks superimposed over some color, as opposed to having it sit on a black background.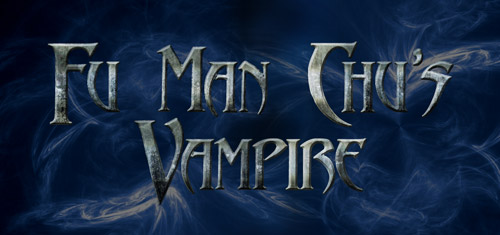 Doesn't that have a totally gnarly graveyard look? Can't you just feel the age oozing from it? It had a different texture first and at one point I started playing with the textures and blend-modes for them, when I hit this one. I started at it and immediately knew, This is it!
I don't know how you respond to the lettering, but to me it has the look and feel of a crypt. I can practically hear stone scraping on stone as the lid slides away… yeah, like I said, I can get carried away sometimes, so never mind me, but feel free to let me know what you think of it.
Also, don't forget that I am still running my promotion. If you buy "Curse of Kali", you will get a free copy of "Fu Man Chu's Vampire" as soon as it is available. Exclusively, and ahead of anyone else. So, if you want to be among the first people to read my next book, make sure to read the full details of the promotion here.