The Kitt Pirate cover got another rework
Last week I told you about my upcoming middle-grade book, Kitt Pirate and also showed you the cover artwork for the book. Well, as these things go so often, we actually made a number of change to the cover because there were a few things that Juan, my wife and I felt could still be improved.
So, Juan had another go at the cover and added some more detail. The result is an incredible cover artwork, I feel, that is definitely stronger than the one I showed you last week. More fleshed out, it hits the nail perfectly on the head in my opinion and if a solid cover were any guarantee for stellar sales, I am sure that Kitt Pirate would have to become an instant bestseller when it is released. Naturally, things are not all that easy, but hey, one can dream, right?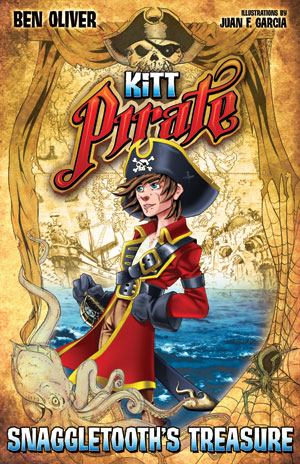 You may also notice from the cover that I have settled upon a pen name for the book. After much deliberation I have decided upon the name Ben Oliver. My wife and I felt that the name has a certain playful quality and a good ring, so we thought for children's book it may be a good choice. So, there you have it. Let me know what you think of both, the improved cover and the name.