Get your copy of Fangoria #303 now!
I will make this short today, because I'm busy with some other stuff, but I wanted to post these tidbits real quick.
Another guest blog of mine showed up around the Internet today. This time I am writing about eBooks and how There's more to eBooks than MOBI and EPUB, over at The Creative Penn. If you are a self-published author, I think you should head over there and take a gander. Even if you disagree or think you're settled just fine, read it, just for the perspective, perhaps.
In other news, I wanted to remind everyone to pick up Fangoria issue #303. It contains the second part of my Jason Dark serial Food for the Dead, and you don't want to miss it. You better hurry, because in about a week or two, this issue will disappear from newsstands already, to be replaced with the next one. I would hate for you to miss one installment in the serial, just because I forgot to remind you all.
Speaking of Food for the Dead I also wanted to give a quick shout-out to my writer buddy Joe Nassise, who – upon my urging – has taken it upon himself to actually edit the serial for me. If you're not familiar with his work, make sure to check it out. He is a fabulous writer with great stories to tell. Joe did a wonderful job tightening some of my writing and making it more concise.
Writing the Fangoria piece was particularly challenging for me, because I had to write to spec. Not like a short story where they tell you, write something between 7,000 and 10,000 words. Here I had to write every single one of the five installments on spec to fit in 820 words. That is the space and guideline I was given. Fitting the entire story into that framework, making sure the cliffhangers worked while also ensuring I am picking up the story in a sensible, easy to follow way every month was quite a challenge. I spent hours brooding over paragraphs, trying to cut the word count down. What do you do when you are 20 words over budget, but every single one of your words matters? Occasionally I just went crazy and deleted an entire sentence, only to notice after it was gone that, perhaps, it wasn't all that necessary after all.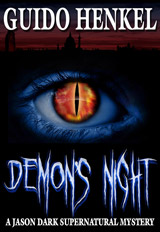 If you enjoyed Food for the Dead so far, I would like to urge you to pick up one of the other Jason Dark mysteries. Demon's Night is a great way to get started in the full-length stories, or if you want to check how the latest Jason Dark adventure reads like, give Curse of Kali a try. Both are still available for only 99 cents on Amazon, Barnes&Noble and Kobo Books.
But ultimately, the Jason Dark supernatural mysteries are designed so readers can pick up any one of them at any time and just get to reading. They are all stand-along mysteries and you don't need to read them in order or anything. Just pick the subject matter that appeals the most to you – vampires, demons, ghosts, or whatnot – and give it a try.
You know, of course, that you don't even need an eBook reader to read eBooks, right? Use Amazon's free Kindle software and you can read all Kindle books on your laptop or desktop computer – even on your cell phone, if you wish.
So, what are you waiting for? I really can't make it any easier for you.