The first stops of my blog tour
Well, this was a truly busy week. With the release of Curse of Kali I truly had my hands full, trying to promote the new Jason Dark mystery.
As part of the promotion and my attempt to get the title at least into the Top 1,000 of Amazon's Kindle bestsellers, I have also prepared a number of guest-post on various blogs around the Web.
For example, why don't you make a quick pit stop over at Scott Nicholson's Haunted Computer, where I created a Book Bucket List for readers. It is a short list of books that I have greatly enjoyed over the years and that have stayed with me and influenced me in one way or another. If you've ever wondered, what kind of stuff I've been reading all my life, and which of these books really became a part of me, you simply have to check out that list.
Today, Bob Freeman hosts me as a guest on his Occult Detective website. I love his website because it seems tailor-made for my interests. It is all about classic horror, old-school mysteries and everything that has to do with the thing s I love and write about in the Jason Dark stories. So, it was a natural fit for me to write about my influences on Bob's blog. It is a post called The Sherlock Holmes Connection and Other Influences, in which I explore many of the things that made me want to write Victorian Era supernatural mysteries. You should definitely stop by and take a look.
There will be more guest posts appearing on other sites in the days to come and I'll try to keep you posted. The best way to keep up with what I'm doing, though, is to follow me on Twitter (@GuidoHenkel) or friend me on Facebook. That way you will never miss a beat.
The launch of Curse of Kali went well, though despite its 99 cent price point, people still don't seem to be buying it aggressively enough to really push it up the charts. It is unfortunate because I am convinced that once you hit a certain threshold, the raking becomes a self-fulfilling prophecy and sales will beget more sales. Curse of Kali Is a long way from that, though, and could still use a bit more exposure.
Maybe you could help, even if you're not interested in the book itself, even if a Victorian Era supernatural mystery is not your bag, even if you are not interested in reading how Jason Dark and Sherlock Holmes solve a case together… How? I am glad you asked. You will find a "Like" button right next to the book on Amazon's website. By pressing this "Like" button you would indicate that you consider this to be an interesting title and hopefully help other readers to make up their minds easier. It is so easy, takes only two mouse clicks and would help me tremendously.
Of course, if you actually bought and read the book, feel free to leave a short review, even if it's just a single line. Reviews are a tremendously powerful tool to help authors get their books discovered, as most readers will take a look at the general consensus before making a purchase.
So, thank you all, for helping me promote the launch and telling people about it, for liking, buying or reviewing it, or for simply listening to me ramble.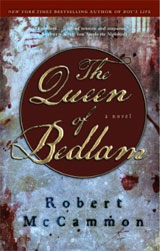 On my own reading end, I have just finished Robert McCammon's The Queen of Bedlam and have to admit that I loved the book. The prose was occasionally a little to verbose for my taste but I could easily get past that because the story itself was so interesting. I found it particularly remarkable how everything in this book ties together. Even the most insignificant scene will play some kind of role later on in the story, making it a real trip as the story unravels. I will have to check out Mister Slaughter some time, the latest of McCammon's books.
For now, however, I have started to read Scott Nicholson's Liquid Fear and I have no doubts that this thriller will… err, thrill me.