Two fun reads – "Rogue Wave" and "Island Life"
In the past weeks I have read two new books and I wanted to take a moment real quick to tell you about them because I enjoyed them very much.
As I pointed out on numerous occasions, I am a fan of Clive Cussler's "Dirk Pitt" adventures but at the same time I do have to admit that I do find them a bit lackluster at times, without a whole lot of depth and occasionally rather forgettable plots. In short, they are to books what popcorn movies are to cinema. Entertaining but nothing really lasting.
In a thread on a message board recently someone was asking about good authors who write Clive Cussler-style stories and I followed the conversation with interest, checking out the books that were suggested in the discussion. One of them caught my attention right away — Rogue Wave by Boyd Morrison.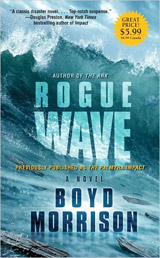 I read the description and immediately liked what was there so I grabbed a copy onto my Kindle and begun reading. It is a very cool book that gets pretty intense at times with emotion. Like a great disaster flick, the story revolves around a group of people as they struggle to survive the greatest tsunami ever to sweep the Hawaiian Island of Oahu.
One of the fun things about the book was that I read the second half of it on my flight to… Oahu. Yes, you read that right. I stepped out of the airplane and immediately began to look for the landmark buildings described in the book. I checked out Waikiki beach and imagined seeing the humungous tidal wave on the horizon, trying to fathom what it would be like if a wave several hundred feet in height would in fact roll into this bay.
But even without all of that, "Rogue Wave" kept me on the edge of my seat. I don't recall who suggested this books as being "in the vein of a Clive Cussler adventure" because it couldn't be further from it, but I am definitely glad I did pick it up. So if you're in the mood for some adrenaline-filled disaster story, take a look at this book.
Right after "Rogue Wave" I decided to finally read William Meikle's Island Life. I've wanted to check out this book for the longest time and somehow always forgot. Now the time was right and it did not disappoint at all.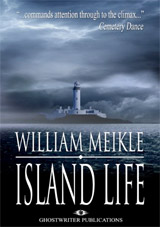 Think of "Island Life" as John Carpenter's "The Fog" meets H.P. Lovecraft/Robert E. Howard and you get the idea. This is a rollicking horror tale that is a creepy as it is fascinating. Written in the true spirit of pulp fiction, the story is filled with cool characters that are killed off before you even know it, making the book a who-will-survive thrill ride from beginning to end.
The strongest point, however, is the book's atmosphere. Like in John Carpenter's "The Fog," the fog enshrouding the remote island off the coast of Scotland is a central character that provides a brooding cloak to the mysterious — and deadly — events. Sprinkled with pagan rituals, strange creatures from a seemingly different world and wonderfully flawed main characters, this book is a pure joyride for genre fans. Again, I am glad that I have picked this book up because I found it thoroughly enjoyable.
Right now I'm in the process of deciding what to read next. I haven't made up my mind yet, because most of my reading time is currently occupied by reading and revising my latest Jason Dark adventure, but in a few days I will need a new book. I honestly hope that something will catch my attention by then, or I will be doomed!