E3 exhibitors afraid to show you their games?
As many of you know, I've been a game developer for most of my life, and my career in the industry goes back over 30 years. As such, I have seen trade shows come and go, and I was there when the Electronic Entertainment Expo, now universally known as E3, was first conceived as the industry's replacement for the Chicago CES show.
Yesterday I went to the Los Angeles Convention Center to visit this year's E3, but what greeted me was more reminiscent of a visit to Disneyland than a trade show. Let me explain…
For the past two or three years a strange trend has permeated E3, one that is unique to this particular trade show. Exhibitors would take their showcase games and no longer display them on the show floor. Instead they would isolate them in a separate room in the actual booth, allowing only a few people inside to see the game, in the course, forcing people to line up to wait their turn. SquareEnix was probably the first company to do this, years ago, to show off the latest "Final Fantasy" entry and over time other publishers adopted the practice.
Well, this year it took a turn for the extreme, because if you were visiting E3 this year, the odds are you didn't even see half the games that were on display. Instead you saw theme-park-like waiting lines in virtually every major publisher's booth. In fact, half the booth space of exhibitors, such as Warner Interactive, consisted of nothing but roped-off waiting lines. Take a look at this picture.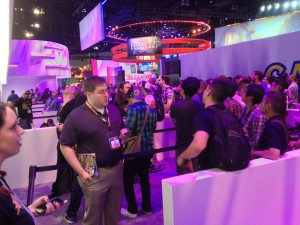 The entire length of the booth consisted of people waiting in line to see one of Warner's top games. Because I was curious I actually decided to get in line to take a look at "Shadow Of Mordor," the latest "Lord of the Rings" game, waited in line for almost 30 minutes, only to find that my line was cut off four or five guys ahead of me. Unable to get into that presentation I would have had to wait another hour to see the next one! Sorry, folks but that is just ludicrous.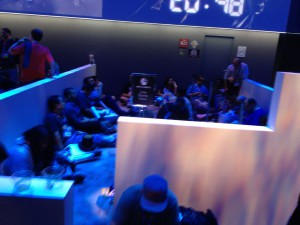 Or take a look at the presentation of "Bloodborne" at the Sony booth.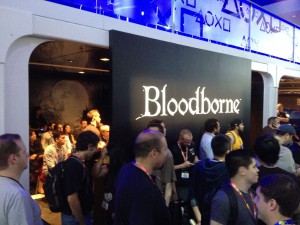 The publisher deliberately placed the screen inwards so that you could not see the presentation from the outside. How backwards is that? Do you want people to see the game or not? How hard would it have been turn the booth 180 degrees and allow people walking by to see that game. It would have resulted in tons of additional exposure, but no, it is much more important to have people line up, clutter the rest of the booth and create a traffic block. Well done, guys!
What's even more ridiculous is that some exhibitors made people line up to even check out games that have been already released. Electronic Arts, for example, forced people to line up, just to get their hands on "Titanfall," an action shooter that was released three months ago! EA has never been known as a company with a lot of common sense, but this certainly scraped the bottom of the barrel.
This, of course, begs the question, are publishers afraid to show you their games? Not really. The answer is actually much simpler. It is sadly as juvenile as the games most of them make.
It all has to do with the opinion most publishers have of themselves. You have people in their marketing departments whose job it is to create excitement around the games they sell, and you have the executives of these companies whose job it is to turn a profit and make the shareholders happy. When you talk to these people, they all have one thing in common: They all think the games they sell are the best in the world and that the company they work for — which strangely changes very frequently — is the most important and influential player in the industry. In short, they live in this bubble where they make themselves believe the hype they are trying to create.
If you truly believe the success of your company or the sales of your game are determined by the length of the waiting line at E3, I have one word for you: psycho-analysis. Seriously, though, it is frightening to think that publishers are so simple-minded that they believe that bigger crowding in their booth buys them karma points and intimidates their competitors. (In their own minds, I have no doubt, their own crowds will always be the biggest and their lines will always be the longest, just as their company will always be the best.)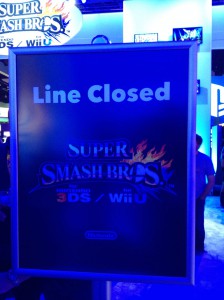 Therefore, a post-E3 statement at Warner Interactive, might easily sound something like this — "Did you see how long the lines were to see Mortal Kombat X? People really loved that game."
What's wrong with this statement? Well, first of all, it completely misses the point, because just because people stood in line doesn't mean they actually got to see the game, let away, liked it. Since they never got to see the game and stood in line simply based on the assumption that the game might be interesting, to deduce that people liked the game is no more valid than saying that, with its lines and all, the DMV must be the epitome of a happy place.
In the real world, at a really useful trade event, the statement could have been "Did you see the crowd and how excited people were that they could finally see Mortal Kombat X?"
But that would predicate that people actually had the chance to witness the game as an openly accessible presentation in the booth, which was clearly not the case at E3. I didn't see a single frame of Mortal Combat X, or Shadows of Mordor, or the new Batman: Arkham Asylum, or The Sims 4 and countless other games. And it frustrates me. Not only the fact that I went to a trade show to see the latest games, but also the fact that publisher truly expect me to stand in line for hours to see a video clip for single game, then leave, wait in line for an hour to see a clip of their other game, and so forth.
In their desire to appear to be the show's hot ticket, they mistake a waiting line for actual enthusiasm. Or then again, they do not mistake it, they are fully aware of the farce, but they are so misguided that they think YOU can't tell the difference, because the reason they really do it is because in their mind, they believe that these lines, reflect positively on them and the game you're trying to see. Creating this barrier, the game becomes this intangible, unreachable objective that everyone has to aspire to because if the waiting lines are so long, the game has to be so cool, right.
Boy, oh boy… I saw through that gimmick in first grade when my teacher tried to use gold stars to draw better performances and behavior out of us. It is sad to see that these huge business entities allow the handling of their trade shows to stoop down to the level of first-graders. Gamers are not stupid…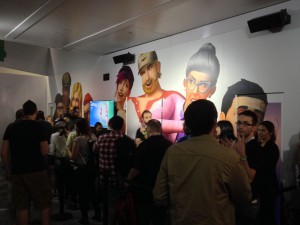 As things go in the real world that I roamed in, the real sentiment among visitors at E3 these days is that they are disgruntled because they never even had the chance to see the game. Instead of spending the time talking to colleagues about the cool games we saw, creating real word of mouth interest, conversations around E3 were often taking place about how frustrating it is to get to see anything of interest. To assume that a visitor has an endless amount of time on their hands is completely half-baked and, frankly, stuck-up. Many industry professionals have to squeeze as much in a single day as they can, and there is no room to wait in line for hours on end. Evidently, for people who are working the trade-show booths this is not an issue because to them it is one large three-day event, but for the throngs of visitors it is not.
So, in the end, exhibitors are really shooting themselves in the foot with this practice. I would have been happy to tell people about how great "The Sims 4" looks, how amazing "Dragon Age: Inquisition," or how cool "Shadow of Mordor" seems to be, but I can't and I won't, because I never saw the games, and to me that is a joke. It is a sign for me that the industry has lost all perspective in its self-indulgent make-believe bubble. You either want to show off your product, or you don't. If the latter is true, you have no place on the trade show floor, and if the number of guards, whose job it is to make sure no one's jumping lines, outnumbers the number of presenters in your booth, you know that you definitely got something wrong.
E3 is the only trade show I've ever seen with this kind of practice. These are not closed door meetings, which have their value and purpose, but public displays that deliberately shun visitors to create the illusion of something special. To me, that is just backfiring. It leaves a bad taste in my mouth and, quite honestly, I no longer care if "Shadow of Mordor" is any good or not. I have lost interest… good job!