The conception of Deathfire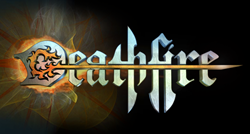 After I had put aside Thorvalla last year, I no longer had the urge to create some huge game world. The work load on that game would have been enormous, requiring us to build a team with over twenty people to get it done right. Needless to say that a team of that sort requires a tremendous financial commitment and the responsibility that comes with it, and somehow it no longer felt right.
I always loved to make games in an intimate environment. The games I consider my best were created with small teams, sometimes extremely small teams even. There is something to be said about having the agility of a small team and the ability to rely on your team members on a personal level, when they're not around merely to fulfill a job obligation or, what's even worse, point out to you that a certain task is not part of their job description. We made games like the Realms of Arkania series because we wanted to make these games. Each and every member on the team was totally invested, and it resulted in real friendships that extended way beyond the work space. We enjoyed each others' companies and respected each others' opinions while also relying on each person's respective strengths and abilities. We were all in it together, and were all pulling for it.
I needed a concept that allowed me to start small and expand from there
It was around Christmas that I decided I wanted to go back to those roots. To bring a level of idealism back to the table that simply cannot be found in a project of a certain size. Therefore, I needed a concept that allowed me to start small and expand from there if fancy took me.
Every time I undertake a creative endeavor seriously, it is sparked by some kind of a… let's call it "vision" for the lack of a better word. It has always been like that for me. Whether I've been thinking of the story for a new book to write, whether it was a song I was writing, an orchestral piece I was composing or a game I was developing. It always started with a singular spark that got me completely excited. It is usually easy for me to separate short-lived ideas from real inspirations. The difference is time. When I have a true inspiration it will linger with me and refuse to go away. Almost, like a love affair. For days. Every free minute, it will pop back into my head uninvited and it will beg to be explored, fleshed out more and expanded upon. If this is still the case with an idea after a week or so, I know that I have found something lasting. Something that truly intrigues me and wasn't just a short-lived idea, a fad, essentially.
So, when I had this vision in my head around Christmas, it kept occupying my thoughts throughout the holiday season, and afterwards I knew that this is something I really wanted to do. Thus the concept of Deathfire was born.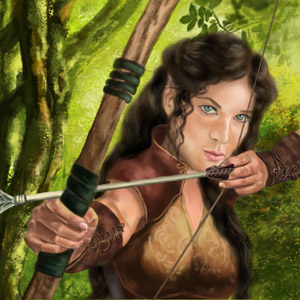 Wood Elf portrait from our Character Generation
The vision I had seen in my mind's eye was a role-playing game game that was electric and right in your face with action. Instantly, I knew that the only way to make this happen was with a first-person view, where the player is right in the thick of things.
While I love the artistic possibilities that isometric games afford us, there are a few drawbacks that made me dismiss the approach offhandedly. For one, the amount of work that is required to make a solid isometric game of any size is enormous, but what's more, in this case in particular, is the distance it creates between the player and the game. In an isometric game you are always an observer. No matter how well it was done, every isometric game I have played has a God-like quality to it, where I am the master moving chess pieces around, typically without too much emotion involved. This is great for a lot of games and has tremendous tactical advantages for the player, but for Deathfire I want something that is a bit more gripping. Like reading a good thriller, my idea is to create a real-time game in which the player is fully invested, where he feels the environment, where he feels the pressure, the suspense and the menace. It may not give the player the opportunity to strategize and analyze a situation in too much detail before on ogre's spiked club comes smashing down on his head. Instead, it replaces the moment with an incredibly visceral experience that can range from startling the player all the way to downright frightening him when foreshadowed properly.
The player should feel the pressure, the suspense and the menace
This basic idea stayed with me all over Christmas, as I mentioned, and I began to flesh it out more, collect ideas, and to create a list of things I do want to achieve with the game. In January, right after I returned from my annual CES pilgrimage, we began working on the project in earnest and it has grown quite a bit since then. No doubt, in part, because I have become obsessed with it. Literally.
I've had experiences like this in past, and while it may sound cool, it really isn't, because in real life this means that I suddenly tend to forget doing my chores, like paying the bills, taking out the trash and even eating. My head is constantly thinking about various things related to the game, whether it is some idea I need to write down before I forget it – yes, I do keep a writer's journal in case you were wondering – or some cool idea for artwork that comes to my mind. Most of the time, however, it is related to some programming issue I am working on at that particular moment. It is truly an obsession and I often walk around the house like a sleepwalker, completely lost in thoughts about my work – much to the dismay of my wife and son at times. So, this is definitely something I have to work on, because it is very destructive as I've learned in the past. (I remember when we developed Drachen von Laas, Hans-Jürgen Brändle and I would literally lock ourselves in my apartment for weeks at a time and work on the game for 16 hours a day, every day.) On the other hand, it is exciting for me feel the rush that I get from this project in particular. It just feels right. It is the right game. I can feel it.
Deathfire is a first-person, party-based, real-time role-playing game with a focus on the story
So, to give you a bit of a better understanding what we're trying to do with Deathfire, here are few cornerstones that I plan to have in the game.
Running in a first-person view, it is a party-based real-time role-playing game with a focus on the story. It is not an open world design. Instead, it is very focussed to create maximum impact for the player. Therefore, we will very tightly control the environment the player moves through so that we can manipulate it as best as possible. This also means that it is a stepped role-playing game, by which I mean that there will be no free roaming the 3D environment. The player will take one step at a time as he explores the world. Not only does this help us to maintain a high level of quality in the overall experience, but it is in many ways also more reminiscent of many traditional pen&paper games where you'd use graph paper to map out the game.
Our intentions are to push the envelope on what has been done with stepped role-playing games in the past
When we think of first-person stepped role-playing games, two candidates come to mind, immediately, I think. The first one is Dungeon Master, the granddaddy of all real-time first-person roleplaying games, and the second one would be the games in the Wizardry series. Deathfire will be like neither of them. It will be so much more. It will be as gripping as Dungeon Master – or Grimrock if you're not old enough to have played the original Dungeon Master upon which it was based – but it will have the depth of a real role-playing game, putting it more in line with the Wizardy games, perhaps. It will be a completely amped up affair. It will be more intense and deeper than either of these games. We have completed the character system design at this point and I can tell you that there are enough character attributes and stats to rival the Realms of Arkania games. Well, not exactly, but we're not too far away from its depth. Our intentions are to push the envelope on what has been done with stepped role-playing games in the past. I feel that there is a huge untapped potential how that gaming experience can be enhanced.
Think of it this way, if there's an earthquake, in most stepped genre games you would see the screen shake and that's about it. In the case of Deathfire, I want this to become a much more gripping event where you will see rocks shake loose, where dust clouds will form and debris will rain down from the ceiling. Characters will react to it, voice their disapproval and fear, based on their stats, or urge the others to move along before everything caves in. On the whole, I want it to become an experience that is every bit as vibrant and alive as it is dangerous and adventurous.
---
In addition, I wanted to mention real quick that we have also expanded the Deathfire team. André Taulien has joined the team and if the name sounds familiar, it should. André was one of the artists on Shadows over Riva and, like Marian, he worked on the Divine Divinity series. With his skills and the additional manpower, we will be able to bring Deathfire to life even better, and it feels great to be back in the game with a group of people that I've worked with before.