Before I dive into today's post, I wanted to remind everyone of the great give-away I am running right now. What do you mean you don't remember? You have not been afflicted by Astaroth's demon curse of forgetfulness, have you?
Well, fret no more, simply click on this link and visit the promotion and give-away post where I outlined all the details. More incentive, you need? You are one tough customer, my friend, I tell you that. But if it is incentives you need, look no further. How does a 1-year subscription to Fangoria sound, or an ultra-rare, highly collectable "Book of the Dead" DVD version of the horror cult classics "Evil Dead" and "Evil Dead 2?" Or, perhaps, a $25 Amazon gift card would be more to your liking, or movies, or books, or t-shirts… I think we understand each other now, don't we? All you have to do is spread some Jason Dark love for me!
Now, on to other things… One of the key ingredients of Halloween are costumes, of course, and I thought I'd make a little post about some of my past disguises. No, I'm not referring to Halloween costumes, but to some cameos I made on the covers of products. Yes, I know, it is hard to believe, but I am a model.
Most recently, my visage appeared on the book cover of Gord Rollo's and Gene O'Neill's anthology of urban horror stories, "Mean Streets." Don't believe me, well, let's take a closer look.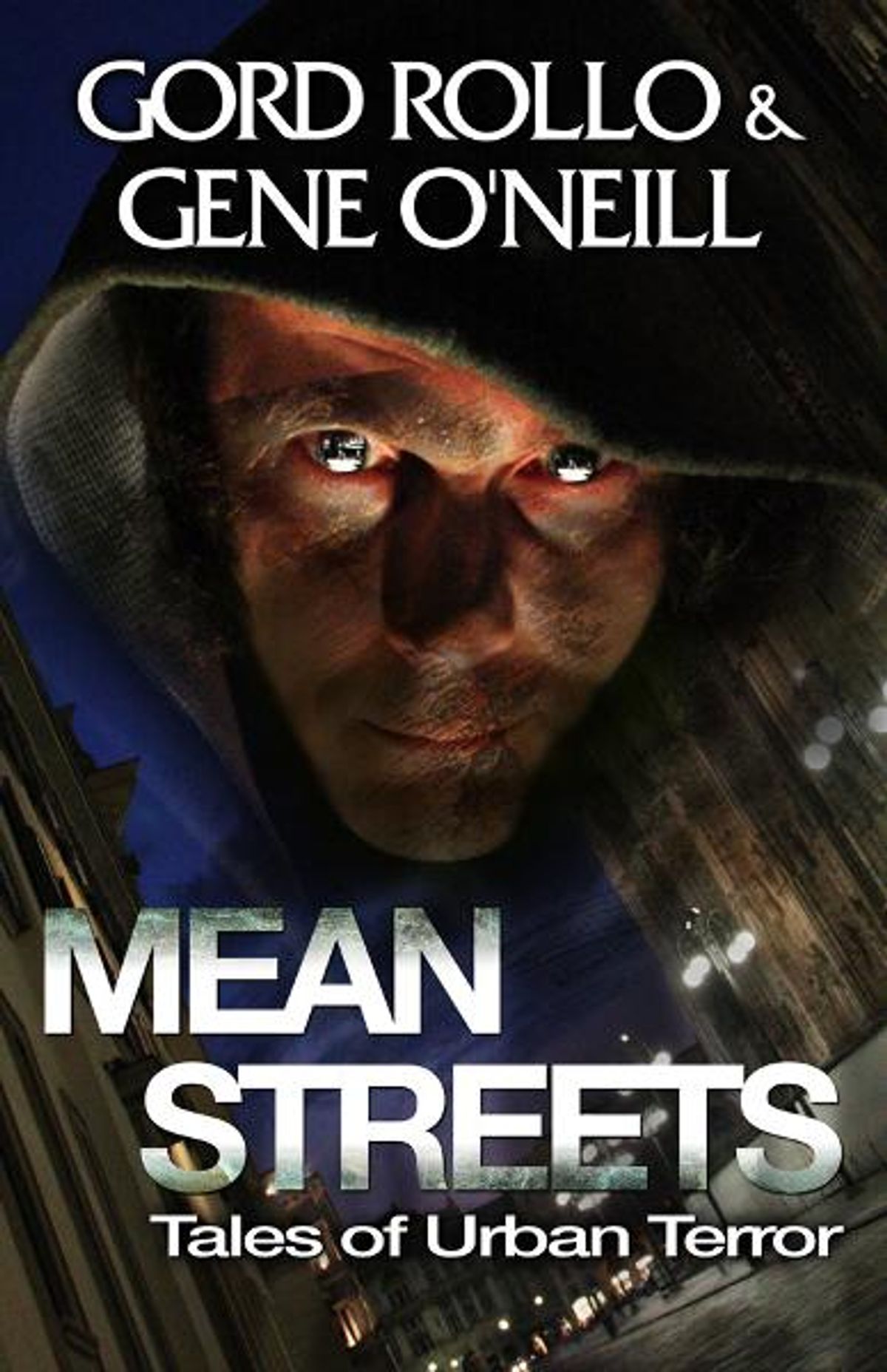 I know, I know, it's all bit dark and shady, but if you look closely — and ignore the silvery eyes — this is really me. My wife, Lieu, designed the cover for the book and we had trouble locating a properly sinister urban gangster. Since we're not real fans of stock photos either, she asked me to put on a hoodie and pose for her. And that's what I did. Some light from underneath and a good deal of Photoshop massaging turned the photo into what you see on the final cover.
I had a cover stunt before, back in the year 1999 or so when we were finalizing a computer game called "Planescape: Torment" that I was producing for Interplay at the time. An ad agency had a cover design laid out and we had booked a male model for the cover shoot. About a day before the shoot, news came in that the model had a scheduling conflict and would not make it. While we were sitting around the office and wondered what to do, someone looked at me and said, "Maybe you should be the model." I thought it was joke at first but everyone in the room looked at me and went, "Yeah, why don't you?"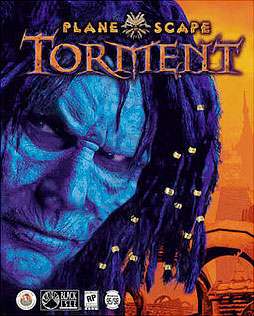 Well, who am I to say no? So, the next day I went to the photo shoot. The really cool part about it is that we needed a monster-like look on the cover, as the character to be portrayed was undead. The agency had hired Hollywood special effects guru Tom Burman for the job, so I went to his workshop in Burbank. It was bit surreal, to walk into his studio and seeing all the work he had done on all sorts of movies, going way back to the original "Planet of the Apes" movies.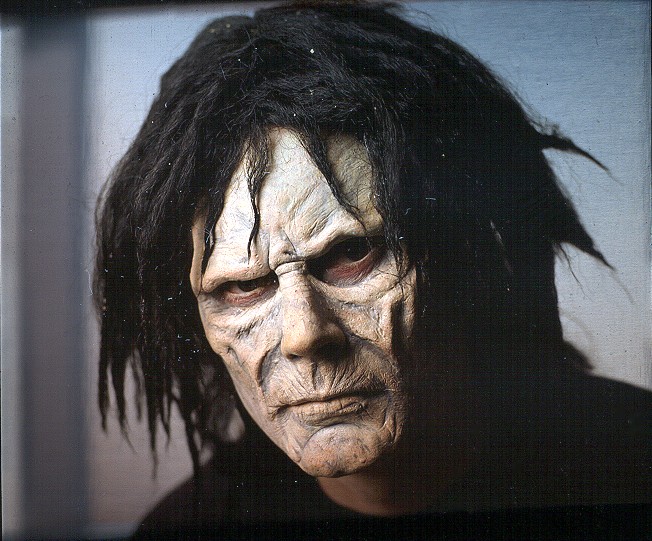 The next few hours were a completely new experience for me. Tom applied prosthetic make-up to my face – a process that took about two hours if memory serves me right. Applying layers and strip of latex to my face he slowly transformed me into a demonic-looking creature. Then, to top it off, he hand-painted the entire make-up to give it a realistic look that would hold up under the glaring light of a camera.
The photographer then took a series of shots of my face, trying to capture what we needed for the cover layout and about 45 minutes later it was time to take it all off again.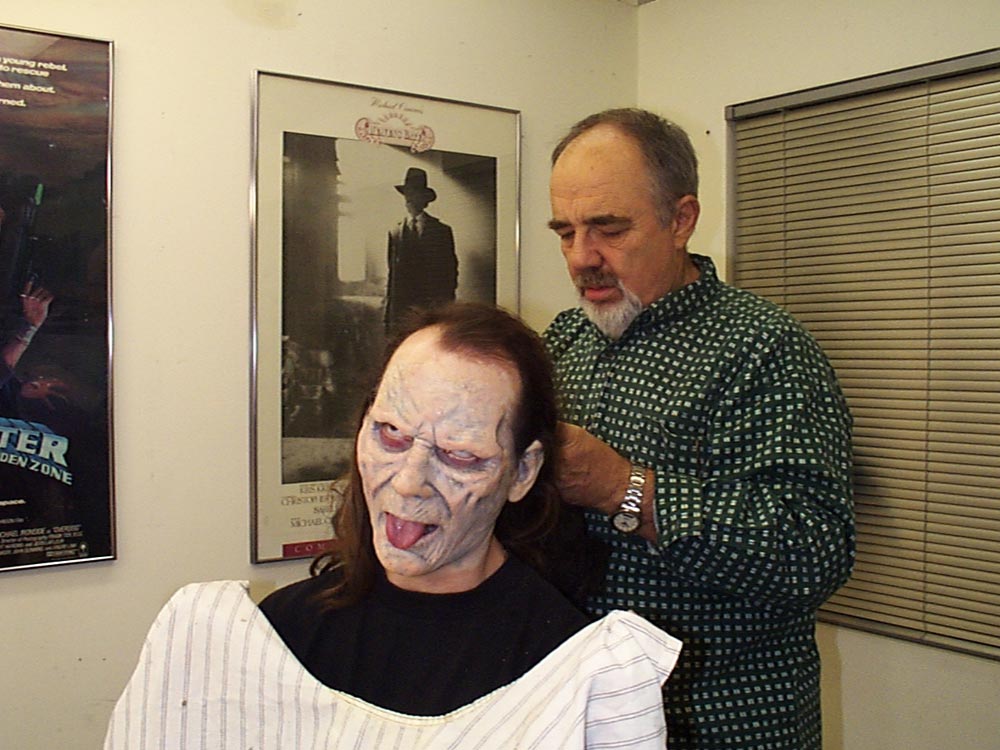 Just on a fun side note, my face was red as a beet and burned for the rest of the day, because of the solvent that was used to remove the appliances. Nonetheless, it was all well worth it, and as you can see in the pictures, it was a lot of fun. A once-in-a-liftetime experience, really, and an incredible honor to meet Tom Burman and actually have him work on me.