Preparing for "Curse of Kali"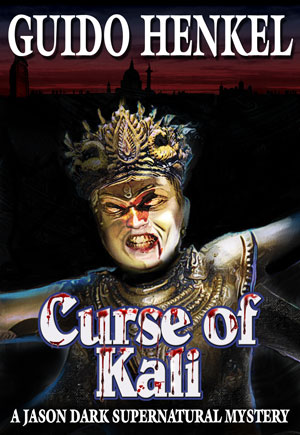 I am currently in the process of preparing the tenth Jason Dark supernatural mystery for release. Curse of Kali will arrive very shortly and I am trying to find ways to spread the word… maybe you can help?
The book will be officially available next Tuesday, April 19, and since this is the tenth Jason Dark story, it feels like a bit of a celebration is in place. The thought to write ten such adventures seemed a bit outlandish when I first sat down to write "Demon's Night" two odd years ago, but here we are. Jason Dark and Siu Lin fought their way through ten action-packed mysteries so far.
To give Curse of Kali a good start in its literary life I am launching it with a low 99 cent price point for a limited time. Hopefully this will help get the book up the sales charts so that it will be easier for new readers to discover.
If you would like to help me with my effort to bring the book into the Top 1,000 by the end of the month, you could help me tweet it up.
Simply tweet something like this on Tuesday for the launch.
CURSE OF KALI new #supernatural #mystery by @GuidoHenkel now on #Kindle for only 99 cents! #ebooks http://amzn.to/fi8vfg
or if you'd rather push for the Nook version, you could tweet something like this
CURSE OF KALI new #supernatural #mystery by @GuidoHenkel now on #Nook for only 99 cents! #ebooks http://bit.ly/eYkAwa
Of course, you can retweet the announcement any time you wish,the more the merrier, as they say. Feel free to post it on Facebook also.
If we manage to get this book into the Top 1,000 of either the Amazon Kindle Store or Barnes & Noble's Nook store, I will be giving away a $25 Amazon gift card among those who tweeted up the book.
I am very excited about Curse of Kali, not only because it is yet another great supernatural mystery, but because it is filled with some absolutely cool stuff — story wise, that is. We have a nemesis of Jason Dark's returning for this story, trying once again to get the better of the occult detective. But what's even cooler is that this mystery is so confounding that it requires two detectives. The team of Jason Dark and Siu Lin is one of them and the other consists of… well, I'll let you read the story to find out. Let's just say, the encounter has been hinted at for the past nine volumes.