Guest-blog Friday and two books you have to read!
I just wanted to make a quick update before the weekend, to point out that I have been guest-blogging on two sites today.
The first one is over on thriller author J.A. Konrath's blog where I discuss some of the strategies I have employed with my "Jason Dark" series in order to get it noticed. You can read about some of the efforts and how they turned out right here! And please, make sure to join the discussion and let have your thoughts on the subject matter as all and any feedback is tremendously welcome.
I am also guest-blogging at the horror site Fatally Yours today in celebration of "Women in Horror Month." In my post I am talking about the tremendous influence female authors have had on the genre despite the fact that these contributions are all too often overlooked or belittled. Check it out. I am sure you'll get a kick out of it, as it is not a straight-forward editorial but instead more sort of a story.
I've just finished two books I've read and I wanted to make sure to let you know about them, too.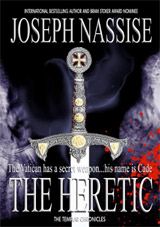 First, I read The Heretic by Joe Nassise. I had some reservations at first and held out on the book for a while because of its catholic connotations, I guess. I'm not a friend of organized religion at all and I rarely touch books that have religious themes. Their moralizing simply gets on my nerves. However, in the case of "The Heretic" that was a huge mistake. Not only does the religious theme take such a backseat that it is virtually non-existent other than working as window dressing, but the story itself is such a riveting read that I had trouble putting it down.
Presenting the reader with a modern-day story in which Templar Knights are a Vatican-sponsored SWAT team to fight supernatural baddies, the best way for me to describe the book is one word: Blockbuster!
This is the kind of story you would find in a Jerry Bruckheimer movie – seriously – filled to the brim with large scale action but also offering enough depth and emotion to make the characters tangible. I loved the story and the way Nassise tells it in a very fluid way that is always serving the story and never distracts from the moment. Cade is a great character with a lot of potential and a lot to like about, helping to make the book memorable.
If you want some no-holds-barred reading material, "The Heretic" should go on your to-be-read list right now!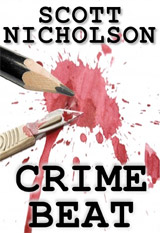 The other book I just finished is Scott Nicholson's latest novella Crime Beat. Boy, what a fun little read. This one just grabbed me right away and begged to be read in two sittings. I don't know what it is but Nicholson's style in the book is almost whimsical despite the subject matter of the story – a serial killer making headlines in an American small town. I don't want to give away too much about the story because Scott does a much better job at it than I would and part of the fun with this book in particular is seeing it unfold.
I love the characters a lot and Nicholson makes it easy to sympathize with them. Again, it is his observational aptitude that brings these guys to life as the mull over things that we all have had in our minds. Add to it the almost subliminal sense of humor that is sprinkled in throughout and you have the recipe for a perfect read.