I want to see "Burke & Hare"
Instead of going on about books all the time, today I'm going to talk to you about movies a little bit. As some of you may know, I am also the editor at DVD Review & high definition and have been reviewing movies for that site for the past, I don't know, fifteen years or so.
There is a movie I've been looking forward to seeing for quite some time — John Landis' latest movie "Burke & Hare." The reason for it are manifold. For one I am a fan of John Landis and think he's not only a really smart but an even wittier guy with an endless array of stories to tell. Talk to him for 30 minutes and you'll be gasping for breath. Seriously!
The other reason is that I am very interested in his take of the "Burke & Hare" story. Readers of my "Jason Dark: Ghost Hunter" series may recall the adventure "Dr. Prometheus," which dealt with body snatchers, providing human research material – speak bodies – to a certain doctor. This profession of bodysnatchers — or resurrectionists as they were called in those days — was notorious before the Victorian era and with the introduction of the Anatomy Act in 1832, it pretty much died out as it gave doctors legal ways to obtain corpses for research purposes.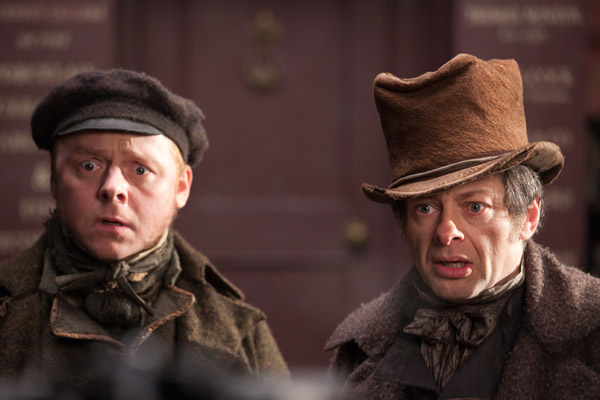 Brendan Burke and William Hare were notorious resurrectionists for the reason that makes great movies and literature — they took it a little too far. Finding that digging up corpses was a dirty job and had its own share of problems, they decided to take a short cut. They simply killed people and sold their bodies to Dr. Knox, a man of the medical profession who decided never to ask where the bodies came from.
All counted, Burke and Hare killed 17 people, mostly destitute people from the street, who they lured to their lodging house and then smothered. They continued their killing spree until their activities were discovered in 1829 by another lodger and reported them to the police.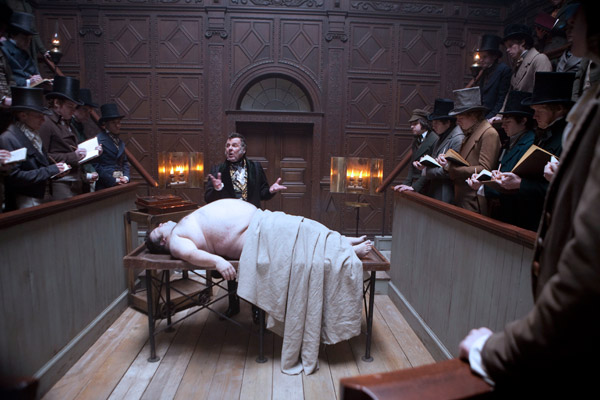 The extreme to which Burke and Hare went actually spawned the creation and passing of the Anatomy Act, which went into effect 3 years later to prevent such atrocities.
In "Dr. Prometheus" I paid a quick homage to these notorious murderers, as attentive readers of the story might have noticed. One of my body snatchers is called Nathan Burke, and when his colleague asks him whether he has the stomach for the job, he simply replies "Stomach? This line of business runs in my family."
Why am I telling you all this? Well, first of al, I know some of you are curious where some of my inspirations for the Jason Dark adventures come from, and I think this is a perfect example.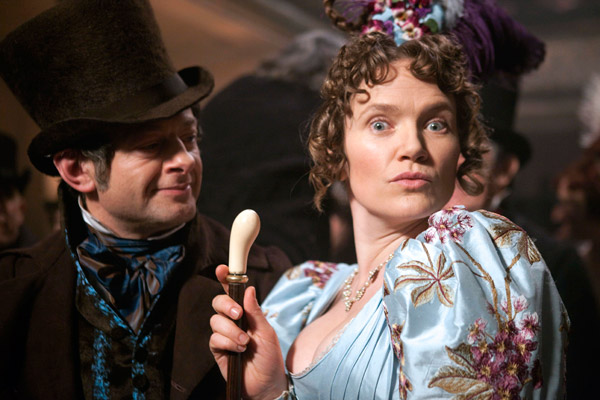 But the real reason is that I want to see John Landis' "Burke & Hare" version, which stars Simon Pegg and Andy Serkis in the leads and has appearances by Christopher Lee, Tim Curry and many others. Sadly, I can't, because the film has no distributor here in the US. In the UK, the movie has had a theatrical run and is coming the DVD and Blu-Ray next month, while we, here in the US have zilch… not a way to see the film. Is that a bummer, or what?
A friend of mine working in the film industry told me that the asking price for the US distribution rights were simply too high and therefore no studio picked it up for this market.
I wish I could buy the European Blu-Ray version but I am not sure it will play. Since Blu-Ray has region coding I will have to ensure first that the release that Entertainment Films is putting out will be region free. Not sure how to go about that, but we'll see. Maybe the information will surface on the Internet, as I am sure there's more people than just me eager to see this film.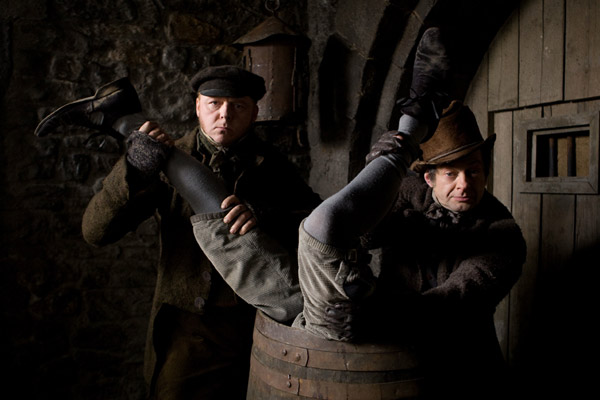 The other way would be to find a way to circumvent the region coding on my PS3. I've seen very contradictory information about this on the web where some people clam it is possible, others say, it isn't and others yet say, the latest version of the PS3 does not even support region coding… blech, not helpful at all.
Anyway, I will keep digging and trying to find a way to get my hands on this film. There has to be some way. Until then, I hope you enjoyed the photos and trailer, which I found over on the website of Horrortalk.com