"Throne of Jade" was different than expected
I hope you all had a great start into the new year!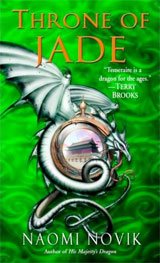 A few days ago I finished "Throne of Jade, " the second book in Naomi Novik's "Temeraire" series. As you may recall, I loved the first book, "His Majesty's Dragon," and was extremely excited to go into the sequel. Interestingly, the book was not quite as good as I had hoped. While Novik's writing is still having the same wonderful flow, I felt the story itself was lacking a bit.
One of the most intriguing aspects of the first book was the involvement of dragons in the naval warfare at the turn of the century, as the English tried so very desperately to disable Napoleon's plans to invade the British Isles. Sadly, most of these action elements are taking the backseat on "Throne of Jade," and instead the story takes on a much more inter-personal approach to the relationship between Laurence and Temeraire. Together they are literally forced by the powers in charge to travel to Temeraire's native China where the dragon soon finds that instead of being creatures that inspire fear and terror, dragon's are in fact full accepted members of society. This, of course, causes the intelligent dragon to question why things are the way they are in Europe, and Laurence begins to fear that Temeraire may not only become seditious, but he might actually decide to stay in China.
The book features only two action scenes involving dragons, the first one as sort of a set-up for the second act and the other one settling the final conflict of the story. Other than that, it is all about relationships, fears and culture. Not bad, but not at all what I had expected.
In addition, the book ends very abruptly, almost as if Novik just wanted to drop the pen and be done with it. Though the story line is complete at that point, the ending is still exceedingly unexpected and rough around the edges, I felt, and a few more word of epilogue would have eased the reader out of the story better. But that is only my opinion, and there can be no doubt that "Throne of Jade" is still a very engaging book.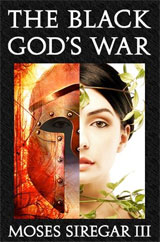 At this point I have started to read Moses Siregar's novella "The Black God's War." He wrote this story as a precursor to his upcoming full-length novel of the same name. An interesting concept, to be sure, and if the first four chapters are any indication, I will most definitely read the novel once it becomes available.
The book is a mix between the mythology of Greek and Hellenic cultures, it seems, intermingled with somewhat more traditional fantasy elements. It reads like historical fiction with a fantasy twist. Things feel and sound real enough to give you the historical feel, yet none of it is part of actual mythology or history, thus giving it a familiar, yet completely new, fictitious flair.
Siregar's writing style is also natural and flows very well, making it for a fast and easy read. There is none of the superficial style found in the books of many first time novelists trying so hard to impress the reader — or more accurately, the critics — while seemingly forgetting entirely that a good story is told as a good story and not an assortment of literary language gimmicks.
Siregar on the other hand, has a firm grip on his writing and seems to be very comfortable letting the story flow and his characters develop. It makes for really enjoyable reading and I am eagerly continuing this story. I will, of course, tell you more about "The Black God's War" when 'm finished reading it.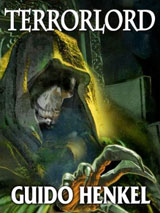 Meanwhile I have begun working on a little side project myself. While I can't tell you too much about it right now, it is a short story in the "Jason Dark" realm. An extremely exciting promotional opportunity has come along which will allow me to get "Jason Dark" in front of a much larger audience than before, and for that purpose I am currently crafting a short story. It is kind of tricky to get all the ingredients that make a "Jason Dark" adventure what it is into a quarter of the usual length — remember, the usual length is already very challenging in its own right.
However, my wife, Lieu, and I have been doing a couple of brain storming sessions and worked on ideas how such a story could look like, and at this point I am confident that I'll be able to put together an adventure that will be every bit as exciting and action-packed as the usual dime novels, while maintaining the same sense of identity and including the customary historic and literary references.
Once we get closer to the actual launch of the promotion I will be happy to tell you more about it.